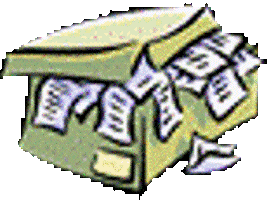 Saving Receipts Can Save You From Unnecessary Headaches!
In this day and age of electronic transactions, so many rely on online account management tools that the receipts frequently wind up in the garbage as unnecessary paper clutter.
Let's look at the reasons why paper receipts are important:
The usual and most common reason for saving the receipt is for a store refund, return or exchange.
Many times when it is an inexpensive item people throw away the receipt before they even open or test their product. If there is a problem with the item many stores will not do anything for you without the original receipt. Additionally, stores will not just accept an entry on an account or billing statement as a substitute for an original receipt.
When you register your product with the manufacturer it isn't just about them knowing what you bought, it makes your product eligible for warranty service.
Some companies will refuse warranty service to unregistered products making you responsible for any repair costs. However, if there is a local factory authorized repair center, they will repair your unregistered item if you bring it in with the original receipt.
If there is a difference in the amount you were charged on your card vs. what the charge was supposed to be, your receipt is the documentation that you will need to dispute that with the bank/credit card company, and/or the merchant.
I had a friend that recently had an issue with a restaurant in Manhattan. First they double billed her for her charge and then the following day there was a charge for over $270 on her account. The bank wouldn't do anything about it because she didn't save the receipt. We managed to resolve it through the restaurant because it was a birthday party that had been botched by incompetent floor staff from the beginning and the whole night we were chewing the ears off management. The last thing they wanted from us was more problems. If we had our original receipt we could have resolved it from the bank side immediately and have the incorrect charges reversed.
To qualify for and receive any mail-in rebate you must have either the original receipt or a copy of it and the UPC bar code from the package.
Manufacturers are counting on you not doing everything to the letter so that they can deny your claim and hang on to that cash you thought you were going to get right back.
The bottom line is that receipts are you friends. Get a tabbed filing pocket from your local 99 cent or Family Dollar store and organize the by store, month or type and toss your receipts in them when you get home. For you compulsive receipt throwers, keep the file in your car and throw the receipts in as soon as you get in the car after your purchases.
Trust me, making this little change in your life will save you headaches down the road.