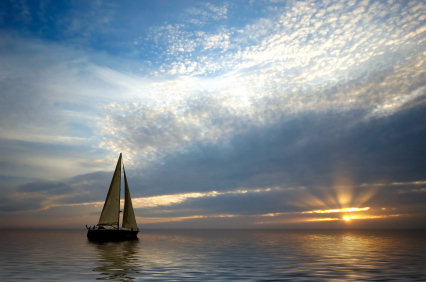 I am a sailboat on the ocean of life. I was set adrift at birth and, for a time, I was safe in tow behind the yacht of parents, family and formal education. One day, I decided to make my way on my own and cast off the towline. I didn't know where I was headed, or how to get there, but I was determined to succeed.
For a time I was carried in the wake of the yacht, so the going was easy at first. But as time went by the winds changed, storms came and went, and the yacht was soon over the horizon. On my own, I picked a direction to go in and stuck to it.
Along the way I found islands and ports, passengers and stowaways, trouble and treasure, adventure and misery, but ever moving on to the next stop, but never a destination.
I now have a destination, but I also don't know where it is or how to get there. I have handed the wheel over to a new Captain called God, and I am relying on Him to get me where I am going. He controls the wind, the tide, the currents and will take me where He needs me to be. All I have to do is follow where he leads, listen for His whispers and let Him take me where I am going.
It is this faith and trust in God's will that has changed my life and who I am, from a selfish and self-destructive individual into a person with a purpose greater than my own. By serving that greater purpose I now have the happiness, satisfaction and peace that we can all spend a lifetime seeking, but never finding.